Case Study: SPARK
Catalysta: Beatrice Maneshi
Over the course of 2020-2021, Catalystas supported SPARK in adapting programming to support SMEs and interns in overcoming the impacts of COVID-19 through innovative online programming that has been adopted for expansion by SPARK as part of their global strategy and portfolio.
Covid-19 impact in both countries hampered travel, and the team conducted both the research and the Decent Work training remotely. Relevant Covid-19 mitigation strategies on health and sanitation were incorporated into the training.
In the wake of the COVID-19 pandemic, businesses and job-seeking youth all over the world found themselves facing seemingly insurmountable challenges in the economy, health, and freedom of movement.  Especially in Iraq, a nation only now recovering from two decades of war and conflict, and where business practices and culture are mainly based on in-person exchanges, the impacts of COVID-9 have been devastating.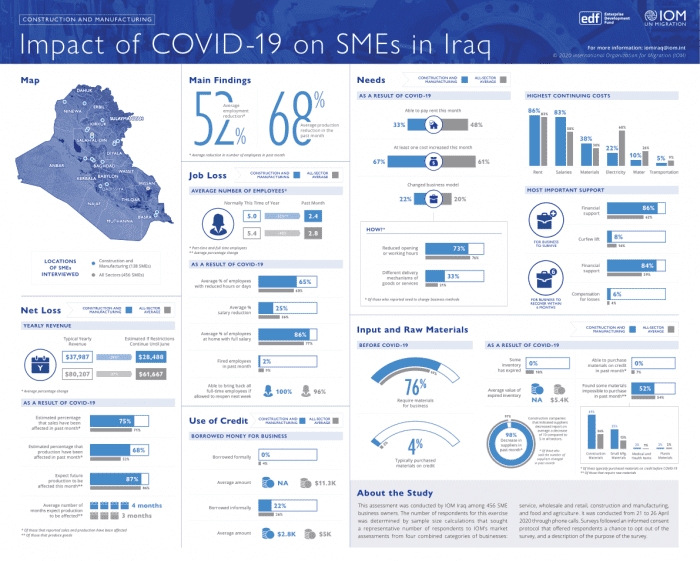 in the early months of the COVID-19 pandemic, IOM's Iraq team undertook a full diagnostic of the impact of the pandemic on the private sector. The findings are astonishing even compared to other countries – in large part due to the cash-based economic nature of Iraq. 
As a response to these new challenges suddenly facing the Iraqi economy and ecosystem of small and medium-size enterprises (SMEs), Catalystas lent our expertise to our long-time client SPARK, designing a rapid intervention to support Iraqi business and job-seeking youth in the wake of the restrictions placed on movement and the accompanying shocks to the business market. Our design consisted of a two-part program:
Part I: An Iraqi SME mentorship and grant program, which supported 20 businesses through a multilevel support system. Businesses received financial support in the form of a grant between 800-7000 USD to support innovation and adaptation to external shocks, as well as 1:1 mentorship and coaching support for three months accompanied by toolkits developed by industry experts on the topics of Digital Marketing and Sales, Digitizing Workflows, Crisis and Risk Mitigation, and Operational Health and Safety. 
Part II: A fully virtual internship program, which provided 55 IDPs, refugees, and vulnerable youth based in Iraq between the ages of 18-30 with training on digital work skills and etiquette followed by placement with a business for a three-month internship conducted entirely remotely, in digital space. Further support to these participating interns included establishing bank accounts for those who did not yet have one, the provision of laptop and internet bundles for those assessed as most in need in order to succeed in an online program, and a monthly stipend of 150-300 USD.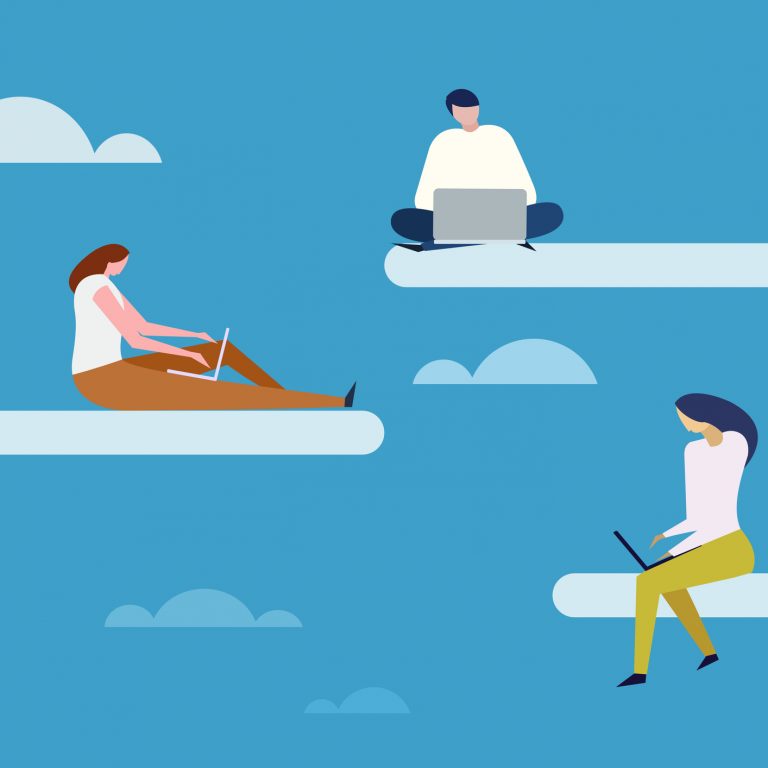 Catalystas supported SPARK from start to finish in realizing this project over the course of a year and a half (and is now proud to watch the continuing expansion of the program). Our team, led by Catalystas founder Beatrice Maneshi, made use of our extensive experience in Iraq as well as key technical skills to provide the following services and tasks to support SPARK in executing this cutting-edge program:
Undertook a rapid needs assessment of both the business and job market environments in Iraq to understand the greatest challenges facing businesses and youth alike in the early stages of the pandemic. This allowed us to identify the skills and expertise missing in the ecosystem, around which we could build the program. 

Designed a programmatic strategy, logic framework, and implementation plan, along with funding requests.

Supported in identifying subject-matter experts to develop four toolkits and provide 1:1 mentorship on the subjects of

Digitizing Workflows, Occupational Safety and Health, Risk Mitigation, and Digital Sales and Marketing.

 

Designed the application and selection process for recruiting both Iraqi SMEs and digital interns as program participants. 

Designed a self-led training on the "best practices for success in digital businesses".

Provided connections to partners such as

Skills Lab, a software service that helps design attractive CVs based on questionnaires regarding life skills and work skills, for integration into future iterations of the program. 

Provided ad-hoc program management support, including writing initial, midterm, and final assessment reports for each of the SMEs receiving support and expert mentorship, as well as tracking and filling quantitative data and benchmarks.

Undertook the final impact evaluation five months after the conclusion of the program, which specifically aimed to provide lessons learned and recommendations based on a quantitative and qualitative assessment of the program and its beneficiaries (both SMEs and e-interns), as a means to inform future iterations of the program, now slated for implementation in 2022.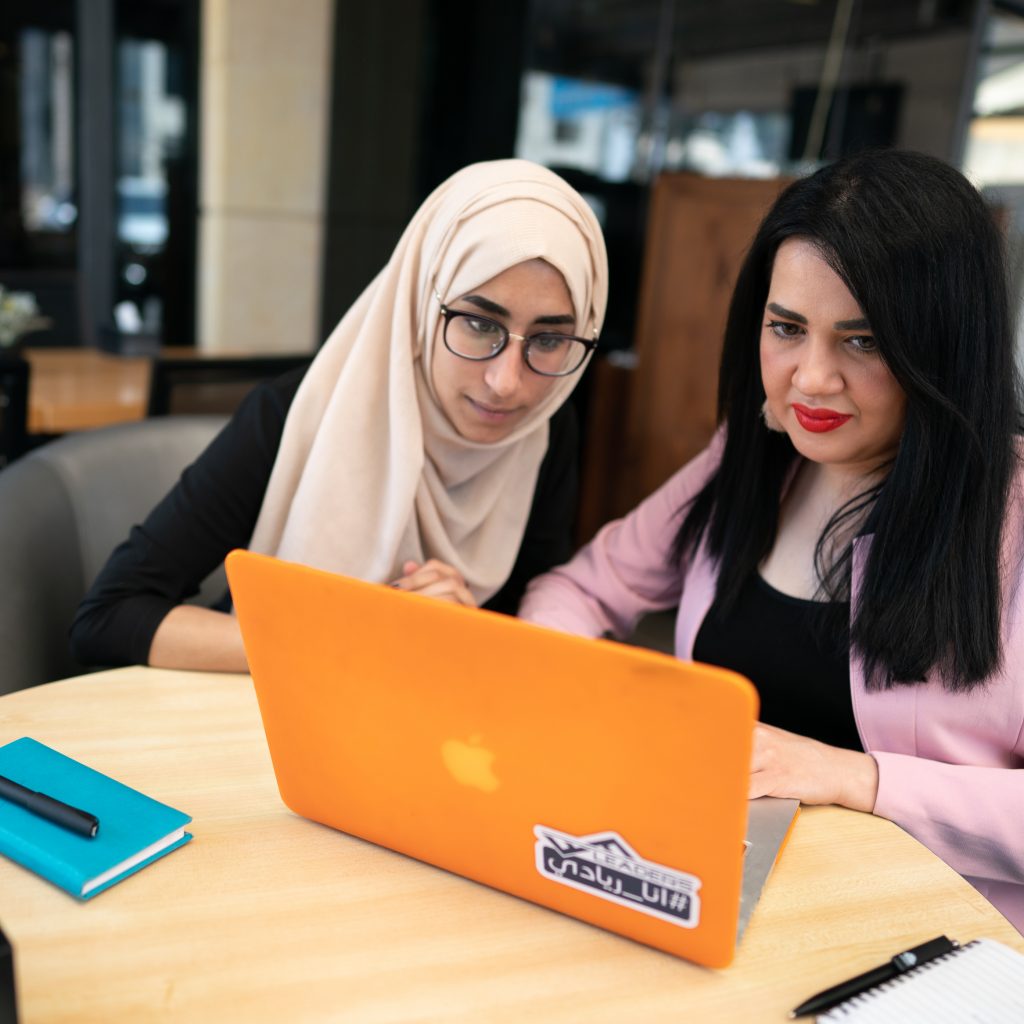 The impacts of the rapid response program were impressive and unique for Iraq
Overall, the program was perceived by project staff and businesses alike as innovative and well matched to the real needs of the SMEs and digital interns in Iraq. SPARK, with support from both Catalystas and local implementation partner The Station, was able to rapidly adapt and implement a pilot program that has now been adopted for expansion into a fully fledged high impact program supporting businesses and interns in adapting to shocks to local and international private sector markets. 
The program was particularly innovative in its ability to pivot quickly based on the rapidly changing dynamics stemming from the COVID-19 pandemic and the emerging needs of the beneficiaries – an extremely common challenge for NGO programs, and something that Catalystas has been proud to facilitate SPARK as well as countless other NGOs in masterfully achieving. After acquiring detailed insights into the needs of the businesses participating in the program during initial implementation, extra components were added to the program to provide the support that better matched the needs expressed by the businesses during the application process. The number of expert support hours for each business was increased from 10 to 14 hours through the addition of a secondary mentor and additional financial management mentorship, and the grant amount allocated to each business after the application phase was increased. Additionally, the financial capacity of each business was assessed, and financial planning and accounting capacity development and support were provided to 12 select businesses.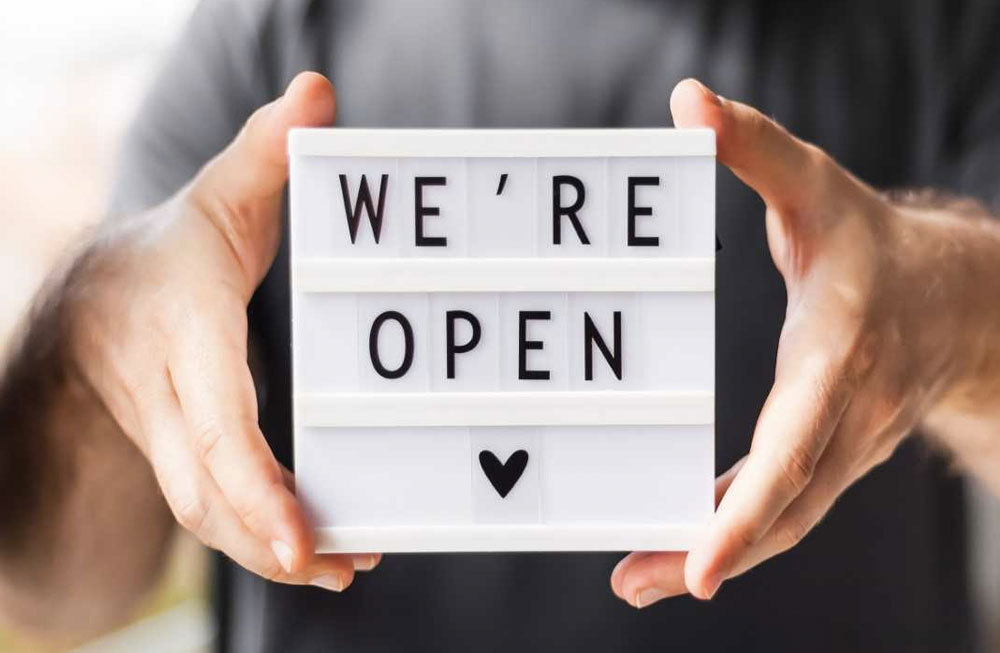 In the final assessment of the project, all 20 businesses stated that due to the lessons learned through this program's 1:1 expert mentorship, they are now better equipped to withstand the shocks that may hit the economy in the future, such as those that came from COVID-19.
Positive adaptations included improved marketing, the setup of risk management systems and emergency funds, digitization of select internal and external business operations, and improved financial management. These businesses today are going on to not only withstand the impacts of on-and-off COVID and security related restrictions, but are actually growing their market shares and capacity where many were previously struggling – all thanks to the SPARK intervention supported by Catalystas. 
When it came to the digital internship program, SPARK had already started to expand the original program to include larger and more internationally well-known companies for future iterations, as well as adding more and more students to the program, which saw an incredible 8,000 applicants in its pilot stage. Even from the initial cohort, the impact was clear: 88.2% of the digital intern participants believed their digital internships made them stronger candidates, and all of them would recommend the program to others. Of the graduated digital interns, 8% were hired by the businesses that they conducted their digital internship at. Another 8% found a follow-up internship or a job within 3 months of completion of their SPARK digital internship. The digital internship program today is entering a new generation, with a dedicated team working full time to place e-interns with businesses. Catalystas has been at the forefront of this effort, supporting SPARK with its programmatic adaptation as well as recruiting international businesses through our networks that can benefit from hosting a SPARK e-intern. To date, our team has recruited nearly 65 businesses for SPARK to place e-interns with. 
Catalystas was proud to support a long-time client in adapting their program to rapidly respond to the local needs of the Iraqi private sector market – an ecosystem our team is deeply familiar with and cares about immensely. We were happy to provide rapid, continuous, and effective advisory, implementation, and evaluative support to SPARK at every new turn and step, supporting the essential ad hoc pivoting and adaptation of program activities in real time. Aligned perfectly with our team's work and belief that any program can utilize innovation and teamwork to catalyze rapid and agile solutions for programmatic disruptions in developing and fragile economies, Catalystas looks forward to continuing to support SPARK as well as countless more NGOs in effectively recognizing, analyzing, and responding to moments of instability, and accelerating to overcome any challenge – a global pandemic, and beyond. 
If you are interested in hearing how Catalystas team can support your company or organization become more agile and adaptive in responses to disruptions in programming feel free to contact us at [email protected] 
Let's Talk.
Let us help you take your organization to the next level. You provide the material. We provide the spark.
Email: [email protected]
Catalystas provided the following services to SPARK:
Aspire
Organizational  Strategy Development 

Research and Scoping Studies

Feasibility Study/Market Analysis 

Strategic Partnership Development 

Roadmapping 

Pilot and Strategy Planning
Do
(interim) Project Implementation

Expansion Strategy Advising 

Digitization Consulting 

Online Training 
Assess
Baseline, Midterm, and Endline Evaluation

Evaluation Framework and Indicator Design 

Impact Assessment 

Perception surveying and analysis